'Earthly Evocations : Indonesian Art Now'
Group Exhibition// Arie Smit / Hanafi / Kokok P. Sancoko / Lie Fhung / M. Irfan / Nasirun / Pande Ketut Taman / Putu Sutawijaya / S. Teddy D. / Tisna Sanjaya // Guest Artist Sin Sin Man

Opening Reception: Thursday 17th May, 7-10 pm

Exhibition Duration: 17 May– 17 June 2012
Sin Sin Fine Arts proudly announces Earthly Evocations: Indonesian Art Now, a specially curated exhibition of painting, sculpture, installation and performance art featuring some of the most dynamic artists on the Indonesian contemporary scene today: Hanafi, Lie Fhung, Kokok P. Sankoko, M. Irfan, Nasirun, Pande Ketut Taman, Putu Sutawijaya, S. Teddy D., Tisna Sanjaya, and the venerable émigré artist Arie Smit, whose work has rarely been exhibited in Hong Kong. Each of these exciting artists represents special strengths and characteristics of the Indonesian contemporary art scene, and their coming together in a group exhibition constitutes a rare and newsworthy event in Hong Kong.
In celebration of the 'Earthly Evocations' exhibition, designer and artist Sin Sin will be showing a new series of naturally dyed cotton clothing embellished with batik designs of her own creation, in collaboration with Yogyakarta-based master batik craftswomen.
The theme 'Earthly Evocations' reflects a common thread that runs deeply throughout Indonesian art-making and is present in the work of each of the exhibiting artists, however diverse their visual language might be: an artistic consciousness deeply rooted in the connection between the individual and the Indonesian 'earth'. This 'earth' is both a physical and metaphysical presence: it is informed and affected by the power and the fragility of Indonesia's natural landscape, the socio-political ecology that relentlessly shapes and changes it, and the collective cultural memory of its people, which sustains, rebuilds and celebrates those things of enduring value that are in danger of being shaken or cast off in the eruptions of progress and globalization.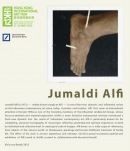 ART HK12 // Solo Exhibition // Jumaldi Alfi
May 17- 20 // May 16 Wednesday Preview

Back for its fifth year, ART HK 12 will take place 17-20 May 2012, preview 16 May, at the Hong Kong Convention and Exhibition Centre (HKCEC). This year, Sin Sin Fine Art will showcase Indonesian artist Jumaldi Alfi, widely known simply as Alfi—first came to national attention in the mid-1990s as one of the founding members of the influential Jendela Art Group. Since then the painter and sculptor has created a personal iconography of visual signs reflecting existential and spiritual experience, on both a personal and collective level. Using a code of images from the natural world, including stones, skulls, cacti, Afli creates paintings whose language is at once intimate and mysterious.
ART HK 12 will showcase the very best in contemporary art from 266 galleries representing 39 International territories. Widely acknowledged as an important platform for networking in the international art community, ART HK brings together leading collectors, curators, artists and galleries from across Asia and the rest of the world.


Villa Summer Retreat 2012
Refresh your senses amongst lush greenery and pure tranquility in Bali. Situated in rice fields around the Legian/Seminyak area, Sin Sin Villa is the perfect place to relax your soul, body and mind this summer.
Friends & family enjoy a very special rate when staying a minimum of five nights:
1 July - 15 September- USD 500/Night
16 September- 31 October -USD 400/Night
Package is inclusive package of:
Airport pick up services
Daily Sunrise breakfast
Included 10% service charges and 11 tax%
Contact info@villasinsin.com for enquiries.